Personal consultation
About personal consultation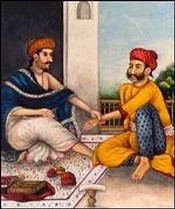 Personal consultation includes advice and determination of your body type and imbalance by pulse diagnosis (by taking pulse: women on the left hand whereas men on the right).
Pulse diagnosis provides objective information about the state of an individual's body, mind and spirit. It makes it possible to determine an imbalance (i.e., the real cause of disorders) or potential illness before it actually appears. By appropriate measures (by means of diet, herbs, lifestyle changes, procedures), it is possible to prevent the manifestation of illnesses and bring the organism back into balance. But the process of pulse diagnosis brings more than that. It is a form of communication at the personal level and benefits both the patient and the doctor. It is a form of meditation.
The resulting recommendation includes an individual plan covering right lifestyle, diet, and procedures, including the prescription of appropriate herbs.
The consultation's success depends on your active cooperation. The most appropriate time to order a consultation is when you are ready for changes in your life.
Recommendations
The consultation includes the filling-in of a questionnaires (available here on the website-see left menu), which you can
print out and fill it.
Please arrive without having eaten an hour or two before the consultation.
Please do not wear make up, nail polish or perfume to your consultation.
Keep a lifestyle diary for 5 days and get this to us before your consultation.
For best results please print out the lifestyle diary (see left menu) and fill it out.
Price Consultation 60 minutes…from 490,– to 900,–CZK according to time, and a place. Some consultations take place in our second office, in Ayurmedic Ceylon.